I'm inviting romance into my life
one Friday Night Date at a time
and documenting each one here on my little ol' blog.

I want to remember every detail
of these splendid home spun dates.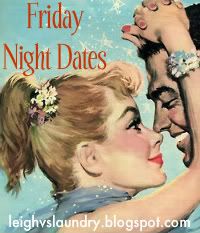 This was such a tasty night of
flavors and sweets.
The film was adorable
and the night was so fun.

The smooches were sweet too.
Here are the recipes...
Easy Strawberry Empanadas recipe
1/4 cup cream cheese, room temperature
2 tablespoons light brown sugar
confectioner's sugar
2/3 cup coarsely chopped fresh strawberries
1 (8-count) package refrigerated crescent rolls
2 tablespoons unsalted butter, melted
Preheat oven to 375 degrees. Blend cream cheese and 2 tablespoons of brown sugar in bowl. Fold in strawberries. Unfold crescent roll dough into 4 rectangles, smoothing the dough together along the diagonal dotted line. Divide the strawberry mixture among the 4 pieces, spooning onto the bottom half of the rectangle. Fold dough over and crimp edges with your fingers or the tines of a fork. Bake rolls for 10-12 minutes or until golden brown. Brush cooked empanadas with melted butter and dust with confectioner's sugar. Drizzle with chocolate, if desired.
Morning Glory Cocktail
* 1 1/2 oz Vodka
* 1/2 oz Dark Creme de Cacao
* 2 oz Light Cream
* 1/4 tsp Grated Nutmeg
* Combine the vodka, creme de cacao and cream in a cocktail shaker half-filled with ice cubes
* Shake well, and strain into a cocktail glass
* Garnish with a dusting of nutmeg, and serve
Did you find romance over the weekend?