I know that I've expressed on here
more than once how
I think that baking is good for the soul.
When the boys are bored
or the house gets a little too wild
I'll shout "EVERYBODY TO THE KITCHEN, NOW!"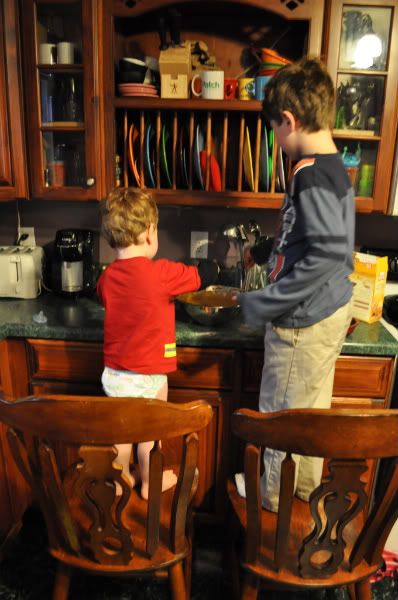 The boys run to me and drag
chairs up to the counter.
Suddenly, the house feels calm
and the boys are focused.

It's like magic.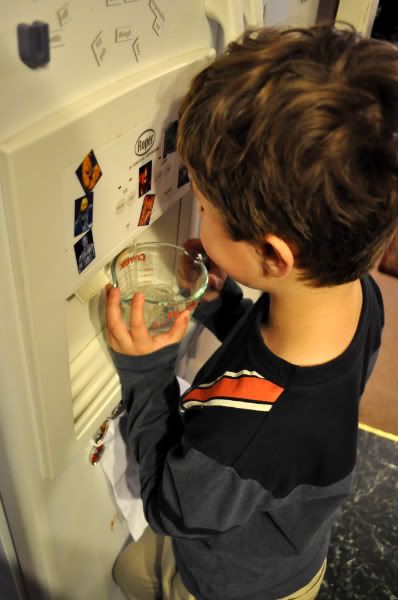 They are so eager to help.
Griffin always snatches the measuring cup from me
and clamors to fetch the water for the recipe.

The water usually runs over
and spills onto the floor.
It doesn't matter, though.

He's having fun.

Koen likes to snatch the spoon
when it's time to pour the batter
into our beloved muffin pan.

The batter splatters and gets everywhere.
It's nothin' that we can't wipe up together, though.

Getting messy is half the joy of baking.

After the muffins are popped into the oven
and the boys scamper off to play,
the kitchen looks like it was ransacked
by two wild and crazy Keebler elves.

I love seeing a kitchen covered
in activity and happiness.

A happy mess.