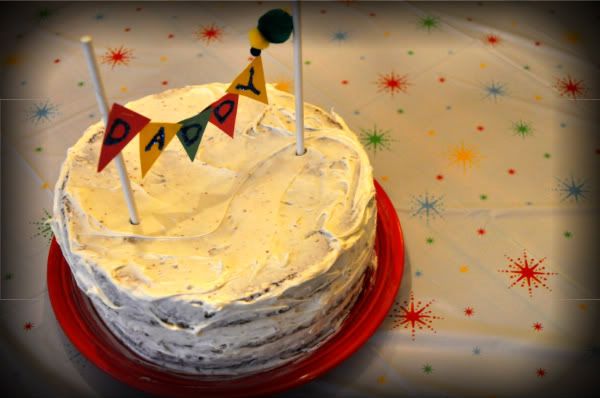 It was Roger's Birthday the other day
and I wanted to make him feel super special
so I decided to make his favorite Hummingbird cake.
It's a southern cake that is not actually made of hummingbirds
but is named that because it's so sweet
that people hover over the cake like Hummingbirds hover over flowers.
I scrounged up the recipe
from a beloved book called
The Girl Who Chased the Moon
and was prepared for an epic battle in the kitchen.
Well folks, my kitchen warrior skills
are getting better and better
because this cake came out fantastic.
I just needed a little bit more icing because
I decided to cheat and use pre-made icing.
It could have looked prettier but Roger
really doesn't mind eating a yummy ugly cake.
I even made that fancy little banner,
any excuse to use glitter and glue.
I think that it's safe to say that I won this battle in the kitchen!
Let's check in with Bianca who's been keeping score,
Here's the recipe...


The Girl Who Chased the Moon Recipes
Julia's Traditional Southern Cakes

3 cups all-purpose flour
2 cups granulated sugar
½ teaspoon salt
2 teaspoons baking soda
1 teaspoon ground cinnamon
3 eggs, beaten
1 1/4 cups vegetable oil
1 ½ teaspoons vanilla extract
1 can (8oz) crushed pineapple, well drained
1 cup chopped pecans
2 cups chopped firm ripe banana
Sift flour, sugar, salt, baking soda and cinnamon together. Add eggs and oil to the dry ingredients. Stir with a wooden spoon until ingredients are moistened. Stir in vanilla, pineapple and pecans. Stir in the bananas last. Spoon the batter into three greased and floured 9-inch round cake pans. Bake for 25 to 30 minutes in 350 degree oven, or until a wooden pick inserted in center comes out clean. Cool in pan for 10 minutes, then turn onto cooling rack. Cool completely before frosting with cream cheese frosting.
CREAM CHEESE FROSTING
1 pound cream cheese, softened
4 cups sifted confectioners' sugar
1 cup unsalted butter, softened
1 teaspoon vanilla extract
In a standing mixer, mix the cream cheese, sugar, and butter on low speed until ingredients combine. Increase the speed to high, and mix until light and fluffy. Reduce the speed of the mixer to low. Add the vanilla, raise the speed to high and mix.