I'm inviting romance into my life

one Friday Night Date at a time
and documenting each one here on my little ol' blog.

I want to remember every detail
of these splendid home spun dates.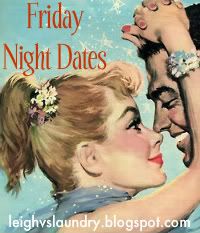 Date #
30
Sometimes I think that it's good for the soul
for a lady to drink a whiskey drink
and watch a film about fast cars.
Drive is one of those films
that is a bit of a paradox.
Highly stylized, romantic,
yet gruesomely violent.
I took it as an opportunity
to bury my head in Roger's chest
but some of it is not
for the faint of heart.
That being said,
Ryan Gosling sure does know how to smolder
while chewing on a toothpick.
Here are the recipes.
..

Almond Shrimp with Amaretto Butter
1

2

tsp
salt
1.Heat butter in skillet until golden brown, then saute onion in butter until translucent and barely browned.
2.Add shrimp and saute about 5 minutes.
3.Add amaretto, almonds and salt and cook on medium heat for another 4 to 5 minutes.
4.Serve alone as an elegant appetizer, or over angel hair pasta as an entree.


5 oz Cherry 7up
1 shot Ameretto
1 Shot Whiskey

This is just a spin on the classic 7 & 7. Instead of using regular 7UP, mix with Cherry 7UP and splash a shot of amaretto over the top. Sweet and powerful, it is sure to Zoom up the night.
Did you find romance over the weekend?