Mother's Day was so dreamy for me.
I woke up to a beautiful bouquet on the dining room table.
What lady doesn't love getting flowers?

We celebrated with my parents
and the site of gifts, gifts, and more gifts
was so exciting.

Let's see, inside those bags there was
a vintage table cloth, pink sunglasses, a necklace,
books, goodies, treasures, and knick knacks.

My mama made my very favorite Rosy Pear Upside Down Cake.

It was splendid.


The best gift was a sweet painting from Griffin.
I put it in a place of honor on our refrigerator.
Also, my dad offered to wash 2 loads of laundry for me.
You can't beat that!
I felt so very loved!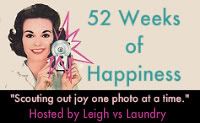 Want to join me in my quest
to scout out happiness for a whole year?
Simply post a photo of something that
makes you wildly happy and tell us all about it.
Then, steal my button and include it in your post.
Don't forget to link up to Mr. Linky.