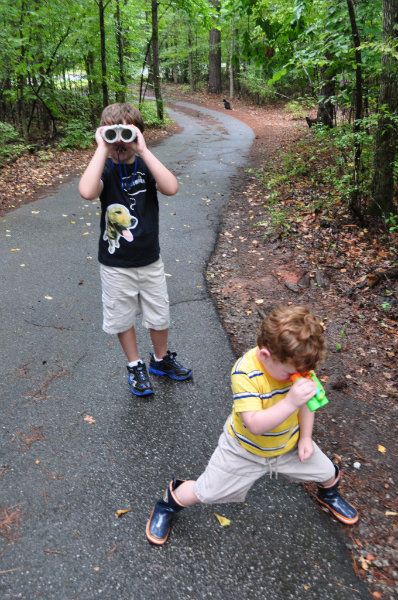 The other morning, we woke up and it was raining.
It rained and rained and rained.

By the time it stopped,
we were all tired of looking at each other
and had a bad case of the coops.

So, we strapped on some rain boots
and went on a hike in our neighborhood
to hunt for puddles and observe
the soggy world through binoculars.

We stomped through every single puddle
that we encountered.

It felt like an adventure.

Along the way, we stopped to search
for little wet birdies perched in their nests
or damp squirrels peeking
out from their little hidey holes.

Pretty much all we saw
were wet leaves and mud.

It was still fun to look.

There is something almost magical
about stepping out into the world
after a storm.
The smell of fresh rain is so sweet.
The humid air sticks to your skin.
The freedom of jumping in puddles
and not being scolded for getting soaked...
it's the stuff that childhood is made of.
I love sharing these simple moments
with my children.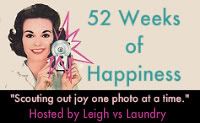 Want to join me in my quest
to scout out happiness for a whole year?
Simply post a photo of something that
makes you wildly happy and tell us all about it.
Then, steal my button and include it in your post.
Don't forget to link up to Mr. Linky.