I had one of those magical weeks
where beautiful sunsets unfolded right before my eyes.

Where creativity seemed to radiate out of my skin
and spill onto the world around me.

Sorting through my photos from last week,
I noticed that I had collected pictures.
of the beauty of nature.

Like these breathtaking sunsets.


Little bitty mushrooms seemed to just
land beneath my unsuspecting feet.

I love it when that happens.


I feel blessed to walk a path that leads me
to such sweet and tiny treasures.

They just begged me to photograph them.


It's times like these that make me happy
that I almost always have my camera on my hip,
just waiting to capture the photographs that beckon me.
I just love seeing the world like it's a Monet painting.
Creating art makes me so very happy!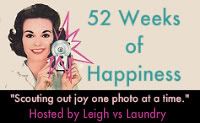 Want to join me in my quest
to scout out happiness for a whole year?
Simply post a photo of something that
makes you wildly happy and tell us all about it.
Then, steal my button and include it in your post.
Don't forget to link up to Mr. Linky.