My two year old is a cowboy. He may refuse to wear a cowboy hat on his head and possibly run away if I tried to put boots on his feet, but he has a cowboy's heart. He's tough as nails and more of a daredevil than I would prefer.
After breakfast yesterday, he climbed onto the table, (only after throwing his plate full of food onto the floor) stood up tall, put his arms over his head, and yelled "Watch out mama, I jump!" I dropped my half made bagel on the floor and ran like lightning only to stop him as he prepared to jump off of the dining room table. I redirected him to our indoor trampoline to get his jumpies out.
He scooted over in that direction but was quickly distracted by the new outlet covers that we had lovingly placed over the plugs to protect him. Undaunted, he pulled the baby proof cover right on out of the socket, proudly walked over to me, placed it in my hand, and announced "I pull that out, mama."
Great. That's just what happens when you have a cowboy living in your house.
If he had the finesse and the know how to toss a lasso, I know that he would rope up every single toy in this house and drag them into his room. His cowboy ways don't stop there either, you should see him gallop into the living room on his stick horse. He can jump off that thing and swing it over his head at his brother faster than I can say "sassafrass".
I'm tellin ' ya, he's a high-falootin', rootin, tootin' cowboy and I think that this cowgirl is in for a heap of trouble!
If your new to these parts
please help me reach my goal of 100 entries for
52 Weeks of Happiness
.
Click on the button for all the details!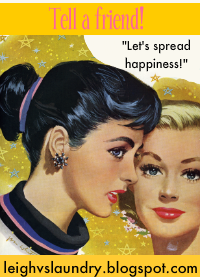 Love ya!