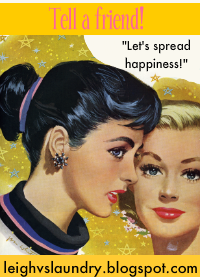 I would love to take over the blogosphere with happiness
and I need your help!
Let's try to get 100 people to participate
in the
52 Weeks of Happiness Project
.
If every person who participated invited one friend
to join in our quest to find happiness in our lives,
then I bet that we could easily get 100 people on board!
As a little thank you for my lovely readers,
whichever person guides the most people to participate
will get the pleasure of taking over my blog for one day.
That's right, tell all your friends
to leave a comment to let me know that you sent them
to join in the carnival.
Whoever sends the most happy people
will be a guest blogger on
my little ol' blog!
We have to reach 100 though!
Sounds like fun, huh?
So, go tell your best bloggy buddy to take a picture
of something that makes them wildly happy
and tell us all about it.
Then tell them to tell their friends.
Who knows?
Maybe we'll change the world,
one happy photo at a time!
You could be a doll
and write up a little post about it
and use that fancy little button that I made up there,
if you wanted to.
Just sayin'.
Okay, please scroll on down for this week's
52 Weeks of Happiness.