I totally have fooled my kid into believing that I can see every little naughty thing that he tries to do. I suspected that I had tricked him into thinking that I was the smartest and craftiest mom on the planet but he confirmed my suspicions the other day.
We had a play date at our house with a very sweet and polite boy that played on Griffin's soccer team. Let's call him Adam (names have been changed to protect the mischievous). Now, Adam is a good boy. He's polite and his parents really seem to be on the ball, so I was thrilled when he came over to play.
The only thing about Adam is that he gets excited easily and turns into a total spaz. Being a total spaz myself, I can relate to the kid and don't mind so much when he starts to act like a lunatic. You just have reign a kid like him in at the get go, tell him the rules, and he'll try really hard to abide by them.
So, when I discovered that he was pretending to run on our treadmill that sits beside the couch, I kindly asked him to stop. The treadmill was not turned on and I swear that I heard it moaning in pain as he stomped and tried his hardest to make it slide beneath his feet. He stepped off and blushed a bit as he apologized.
I headed into the kitchen to make dinner, leaving the two boys in the living room to play. As I popped some taco shells in the oven, it suddenly grew very quiet in the living room. That usually means that someone is up to no good. I glanced in the mirror of an antique hutch that we have conveniently placed in the dining room. I love this old mirror because I can see a reflection of the living room in the glass. This has become my top tool for spying on the children while I cook dinner. Griffin has been caught in the act many times as I've seen his mischievous deeds in the mirror.
So, I glanced up to see Adam , jogging away on treadmill. "Adam, get off the treadmill, please!" I yelled from the kitchen. I could see in the mirror that he looked shocked while he glanced around the room. He plopped onto the couch and said to Griffin in a shocked voice, "How did she know I was on it?' Then Griffin responded in a very serious tone "I don't know, but she does it all the time!"
I promptly congratulated myself
for being the sneakiest mom ever
and felt incredibly smug while I prepared dinner.

I hope to forever dupe him into believing that
I have eyes on the back of my head!

Also, this is just a little reminder to you

to please help me reach my goal of 100 entries for
52 Weeks of Happiness
.
Please be a dear
and invite all of your friends
to participate in tomorrow's carnival.
Be sure that they let me know that you sent them!
Click on the button for all the details!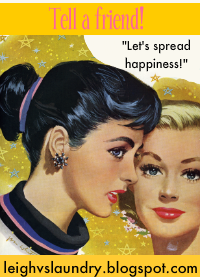 See you tomorrow, my lovelies!