Hands down the most awesome game
that Roger plays with the children
is what Koen calls,
"Higher than that!"
The rules are simple...
we make a big pile out of blankets
and pillows on our bed
and then Roger tosses the children
as high and as hard as he can
onto the pile.
You can imagine the squeals and screams of excitement
that are unleashed as the children grin and
soar onto the bed.
They pull all kinds of amazing stunts.
How can you not feel happiness
when crazy children are
flying through the air?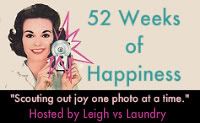 Want to join me in my quest
to scout out happiness for a whole year?
Simply post a photo of something that
makes you wildly happy and tell us all about it.
Then, steal my button and include it in your post.
Don't forget to link up to Mr. Linky.